Corporate Training, Coaching and Events
Corporate training
Effective, interactive, results-driven
I run training sessions for your team on:
public speaking (voice, presence, engagement, speech structure and more)
confidence
speak on the spot/think on your feet strategies
impact and influence
networking strategies
I customise all my talks to suit the audience, getting to know your business or group before I prepare the session. With a background of professional singing and performing, I have a unique perspective and my classes are entertaining and creative as well as achieving tangible results.  View a detailed list of speaking topics.
Julie Lithgow, Director of the Institute of Chartered Shipbrokers
Bespoke Workshops
Practical, exciting, creative
Do you need a unique solution for your team?
I can provide training that's completely tailored to your needs.
For example, a luxury beauty brand asked me to adapt my D.I.V.A. public speaking model to YouTube. We spent a fun, highly interactive session training influencers to be better on camera.
Contact me to find out more.
Testimonial
"All sections of the workshop were relevant to everyone, no matter what industry sector they were in. There was full participation from the group and high levels of noise in the room!  Everyone was talking with their partner at every opportunity. Exercises were clearly explained and the content assumed a level of seniority and wasn't at all patronising. I would highly recommend this workshop to colleagues and associates." – Charlotte Rottenburg, Hearst Live/Harper's Bazaar
Private coaching
Empathetic, efficient, engaging
I provide coaching for your executives. Using my skills as an international performer, writer and consultant I work with you to hone your delivery, structure your content and create an impactful presentation that wins over your audience, inspiring action.
Contact me to find out more.
Here's some communication with accountant, Rizal. We worked together to help him win two public speaking contests by adding more humour to his performance.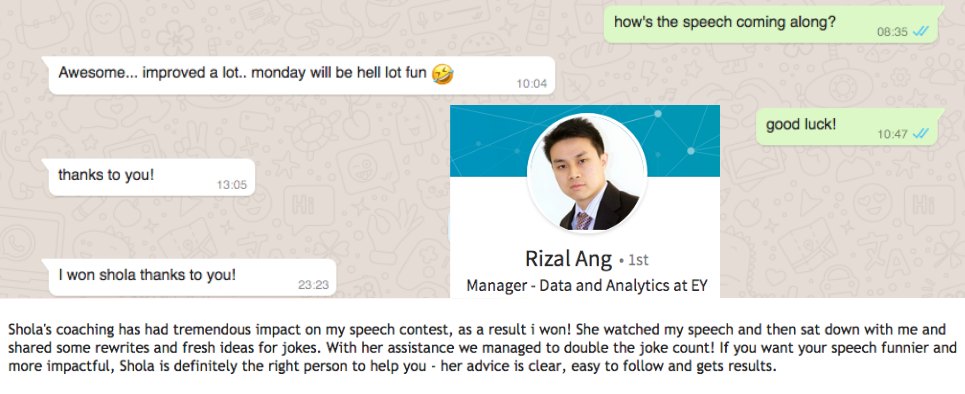 Testimonial
I recently attended a half day presentation that Shola Kaye gave in which she addressed the fundamentals of effective public speaking.
I was impressed and found Shola to be a very able and stimulating presenter and communicator. She engaged the interest and attention of all present for well in excess of two hours. Rather than lecture, she engages and stimulates interest by asking appropriate questions. Her address was punctuated with a number of interesting and very enjoyable role-plays and Q. and A sessions. She engaged with everyone in the audience and ensured that a bunch of more or less complete strangers interacted with one another.
I particularly noticed that she encouraged people to use their own experience and citizenry which, in my case, helped me to identify and effectively use tools and skills that I already have. In the past I have attended "slick", "professional" and indeed very expensive presentations from so-called "experts that fall far short of Shola's very high standards. Judge Paul Sandford, Principal Director, Albert Square Mediation
Companies I've performed for or worked with:
Qualifications
Founder of Speak Up Like A Rockstar/ Speak Up Like A D.I.V.A. Coaching
Clients include: Lloyds Bank (training in Impromptu Speaking, Humorous Speaking, Speech Structure and Delivery)
Harpers Bazaar (Think On Your Feet Training: impromptu speaking frameworks, answering difficult questions, hedging strategies)
Panelist at Marie Claire Future Shapers Live
TEDx speaker
Bespoke training for luxury beauty brand Sacha-Juan
Presented CareerCake TV – How to be an Engaging Presenter
Mahon Digital (Presentation Skills Training, Sales Training)
Coached numerous private clients including lawyers, project managers, engineers and entrepreneurs
Author of Amazon.com bestseller 'How to be a D.I.V.A. at Public Speaking'
Creator of several online public speaking courses with 4.7* average rating
Created and delivered a range of public speaking workshops
Jenny Seagrove Speaker Award 2016 (awarded top mark worldwide)
Professional International Singer and Entertainer
After dinner speaker, presenter and keynoter
Contributor to Marie Claire, We Are The City, The Metro, Presentation Guru
B.A. Natural Sciences, Cambridge University
Postgraduate Certificate of Education, Oxford University
Master of Science (Analytical Chemistry), Emory University, USA
Qualified NLP Practitioner
Former Management Consultant and Account Director (NY and London) Clients included Goldman Sachs (Investment Management Division), British Airways, Prudential Financial
Why choose me?
My strengths lie in assisting my clients with the creation of a highly structured, easy to follow presentation that is also entertaining and actionable. I help clients break down complicated or dense information and communicate it in a way that's interesting and easily understandable to non-technical audiences.

I help my clients with delivery and overcoming nerves, building their confidence with a bespoke approach. I equip clients with the tools they need to continue creating powerful and engaging presentations long after the coaching contract is over.

I have a corporate and scientific background coupled with more than 15 years in the role of professional singer and entertainer and have performed for tens of thousands of people internationally.

As a both an award winning speaker and a professional singer, I also train my clients to maximise the use of their voices, employing a range of vocal exercises to increase volume (as needed) and to improve tone and expression.

With training in Stand Up Comedy, TV Presenting, Sales and more, I bring a wide range of skills to the table, helping my clients gain confidence and project a powerful and influential stage presence.

I have written an Amazon.com bestselling book that details a clear methodology for becoming an engaging presenter. I also have a range of online coaching materials to which I give my clients full access.

I use my formal teaching qualification and skills as an NLP coach to help my clients learn quickly and easily.

I teach a variety of techniques that will help clients win over their audiences and start conversations that will eventually turn into new business.