Delivering keynotes, talks and workshops for corporates, groups and associations.
I'm a humorist, motivational keynote speaker and singer. I open people's minds and hearts to the amazing possibility of . . . themselves.
My speeches are all about becoming your very best self, enabling and encouraging audiences through the topics of 1. presentation skills, 2. entrepreneurship and 3. self-leadership.
For your presentation I can play it straight with no singing or humour, or provide infotainment by giving a fun and informative performance.
Regardless of the topic,  I always invite my audiences to be inspired, to gain new insights and to interact.
Topics include:
SPEAK UP ON THE SPOT: practical suggestions to help you answer difficult questions and speak on your feet at work and beyond
AIN'T NO MOUNTAIN HIGH ENOUGH: how to navigate the highs and lows of entrepreneurship/intraprenership
HOW TO BE A D.I.V.A. AT PUBLIC SPEAKING: powerful presentation techniques from the Amazon.com bestselling book
HOW TO WRITE A THRILLER OF A SPEECH: use the secrets of the world's top songwriters to create a chart-topping talk
HELLO – IS IT ME YOU'RE LOOKING FOR: tips and tricks to help you network for success
Each topic can be delivered as a 45 minute to 1 hour speech/keynote, an interactive 2 hour talk or a half day to full day workshop.
Click to find out about my next public talk or workshop.
Contact me to set up a call if you'd like to find out more about my talks or workshops. I customise all my talks to suit the audience, getting to know your business or group before I prepare the speech. I also run fully bespoke training.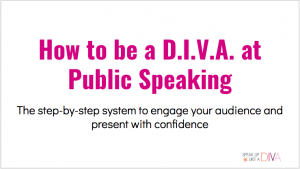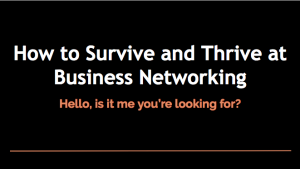 I recently attended a half day presentation, How to be a D.I.V.A. at Public Speaking, that Shola Kaye gave. I particularly noticed that Shola encouraged people to use their own experience and citizenry which, in my case, helped me to identify and effectively use tools and skills that I already have. In the past I have attended "slick", "professional" and indeed very expensive presentations from so-called "experts" that fall far short of Shola's very high standards.
Judge Paul Sandford, Principal Director, Albert Square Mediation
Our organization was incredibly lucky to have Shola as a guest presenter at one of our membership development conferences.  Her session was engaging, dynamic, and above all, directly applicable to all attending the workshop.  Whether you routinely need to present in front of larger crowds, or are simply looking to command more attention and make a greater impact in smaller settings (even one-on-one), Shola's training is a must.  The session generated some of the most enthusiastic feedback of the entire conference!  Her advice is invaluable and truly can be applied in almost any setting.
Colleen Boyanovic, LEAD Chair – Junior League of London