How Can We Help?
Search for answers or browse our knowledge base.
How a negative experience at work sparked an empathy journey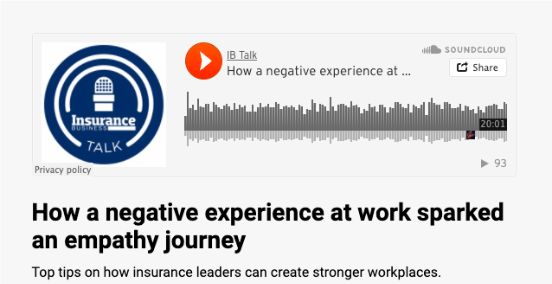 My first ever corporate role was working as a management consultant in New Jersey, in the Insurance industry, what feels like many, many, many years ago! Thanks so much to Mia Wallace, Paul Lucas and Insurance Business UK for featuring me on your podcast and giving me an opportunity to think back to those times.
It was such a rewarding experience to share stories of some challenging moments I had early on in my career, and to link them to the work I do today, helping workplaces become kinder and more inclusive.
You can listen here https://lnkd.in/ds4xvs9A

See the post on LinkedIn
Shola Kaye LTD is a keynote, coaching and training company delivering talks, workshops and assessments to clients across the globe. Clients include Deloitte, IBM and Google. Our expert trainers and coaches are available to help your organisation with leadership, culture change, DE&I and communication. Please reach out to us at hello@sholakaye.net if you'd like to learn more or book a discovery call at sholakaye.com/15 to discuss your needs.