Supporting your Transformation with Empathy, Inclusion & Communication Programs
Delivered by Shola and her team of expert trainers and coaches, we have four learning streams for your leaders and teams.
Whether you need keynotes, workshops or coaching, we'll help your managers become more empathetic and inclusive, and we'll support your employees' DE&I progress with our trusted Empathy to Equity Blueprint program.
Our coaches are certified in many different assessments and can design a group coaching program or work with you to co-create a bespoke multi-faceted leadership program.
Effective communication is foundational to your success which is why we back up our leadership and DE&I content with communication skills training to help your leaders and teams work better together.
From 60 minute keynotes to year-long leadership transformations, we tailor our content and delivery mechanisms to your business. You can book just one session or rely on us to fulfil your training needs for the months and years ahead.
The four learning streams are:
Leading with empathy
Inclusive leadership
The Empathy to equity blueprint
Effective communication
To find out more about the sessions within each stream, keep reading this page. You are welcome to mix and match sessions, assessments and coaching based on your needs. The streams are shown to give you an idea of what's possible.
Contact us for a full list of session descriptions with learning objectives, or book a call if you like what you see and are committed to taking the next step!
Transform your culture with effective, engaging sessions for your senior execs, middle managers and emerging leaders.
Session 1.1: Elevating empathy
Session 1.2: Empathy skills for leaders and managers
Session 1.3: Leading with self-awareness and EQ (Emotional intelligence)
Session 1.4: Difficult conversations
Session 1.5: Delivering effective feedback with empathy
Drive feelings of belonging and manage diverse teams with skill
Session 2.1: Inclusive leadership essentials
Session 2.2: Breaking down bias
Session 2.3: Microaggressions and bystander interventions
Session 2.4: Creating psychological safety and building trust
Session 2.5: Managing in a virtual environment
Session 2.6: The modern leader for the future-ready organisation: creating a motivational environment
What clients say
'So insightful and thought provoking. You made me realise I have more to do.'
– Partner, IBM
'The content of this session felt very timely and I would absolutely encourage others to enroll.'
– Manager, Digitas
'Can't thank you enough for an eye-opening session. A month after the training it's still so fresh in our minds.'
– Team leader, American Express
3. The Empathy to Equity Blueprint
A foundational D.E.&I. program for all your employees
Session 3.1: Elevating empathy
Session 3.2: Understanding bias and intersectionality
Session 3.3: Microaggressions, bystander interventions, calling out and calling in
Session 3.4: Inclusion, allyship and being an accomplice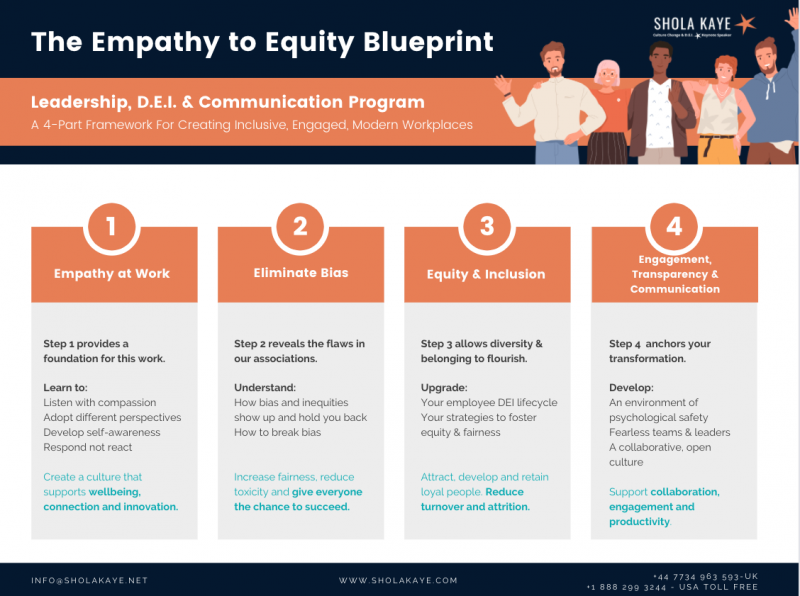 4. Skills for Effective Communication
Communication for confidence and workplace success
Session 4.1: Essential frameworks and tools for speaking up and being heard in meetings
Session 4.2: Presentation skills & public speaking
Session 4.3: Tools for influence and persuasion
Session 4.4: Voice, gravitas and presence
Session 4.5: Asking for what you want & managing difficult conversations