Making a virtual connection
Why virtual presentations can be just as good as (if not better than) face-to face ones
Watch Shola's 2.5 min virtual speaker reel
Virtual sessions are just as good as face to face (when you have the right speaker!)
Why settle? Virtual speaking can be exciting, interactive and impactful. 
Plus, it means you can save money on transportation and event costs – without compromising on the quality of your audience's experience.
Shola's an expert at ensuring your people are involved and participating, wherever they are around the globe.
She's a LinkedIn Learning instructor on how to energise and engage audiences.
Not to mention that with a background in business, education and entertainment, coupled with a genuine desire to create a real bond with her audiences, she goes further than many other speakers.
Shola's goal for every virtual program is to establish an honest, open connection and create a spirit of engagement, interaction and reflection.
From whole company keynotes with thousands of attendees, to intimate sessions with your executive leadership team, Shola creates an inclusive, friendly environment.
Participants feel safe enough to get involved, sharing their ideas and opinions with Shola and their fellow audience members via the chat/Q&A, and during live demonstrations and breakout sessions.
But you don't need to take our word for it. Let the realtime feedback from real audiences, captured below, tell the story of what they gained from Shola's virtual keynotes and masterclasses.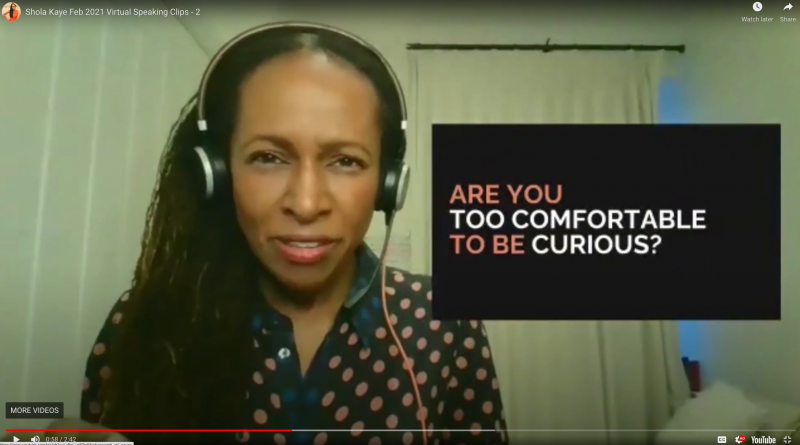 Shola's presentation software embeds her slides in her camera so she can stay connected with the audience
Shola uses software that embeds her slides in her video camera.
This means that she appears full size on screen rather than being in a tiny box in the corner.
Her slides help support the message, but they're not the sole focus. The software she uses to achieve this works with a variety of platforms – MS Teams, Zoom, Webex, GoTo Meeting and many others.
The benefit to you?
An even more engaging experience for your participants AND Shola controls her own slides, allowing you and your event management team to sit back, relax and simply enjoy the keynote.
Typical Slack and MS Teams chat screenshots captured towards the end of Shola's keynotes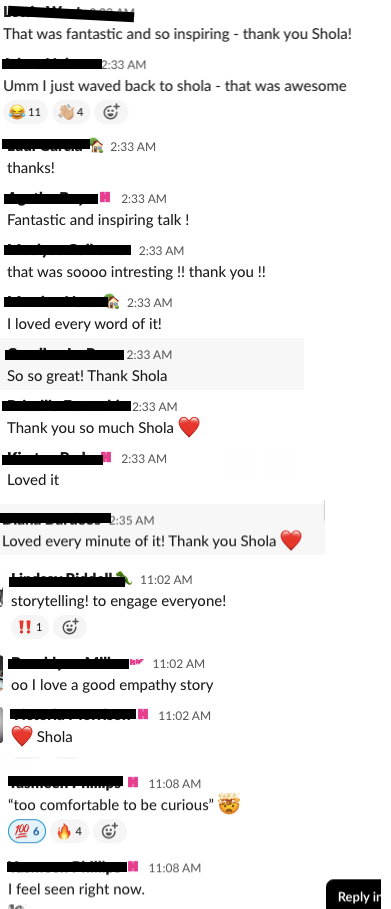 LinkedIn feedback after a virtual keynote
Shola involves the audience right from the start and they'll typically submit hundreds of comments during the session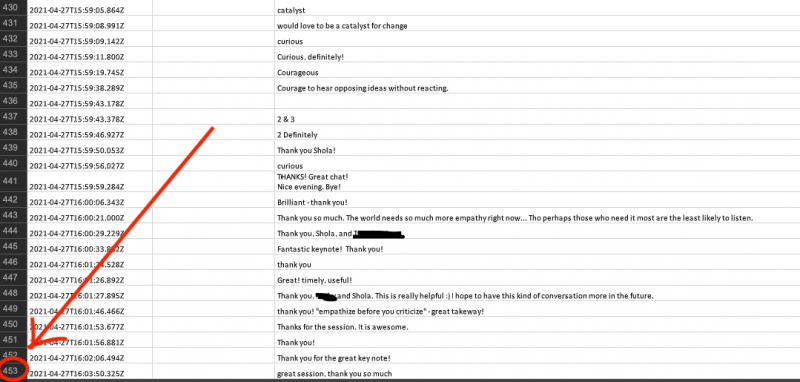 <