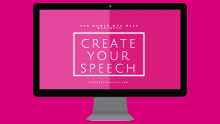 Coaches, entrepreneurs and employees: Write your next speech fast, and without the hassle. Get the FREE mini video series NOW.
Next public talk or workshop:
TEDx Peckham
July 29th 2018
I'm delighted to announce that I'll be one of the speakers at TEDx Peckham later this summer.
The theme is 'A Seat At The Table'. I'll be speaking about communication strategies and women in the workplace. See Eventbrite page.
Find out more about Shola's public talks and workshops.
Keynote Speaker, Humorist, Author and Singer
'To be yourself in a world that is constantly trying to make you something else is the greatest accomplishment.' Ralph Waldo Emerson
My purpose is to help you speak up and share your message. I want you to become more powerful and effective at work, to build a business with public speaking or to gain the confidence to go out into the world and interact with courage and authenticity.  I know what it's like to struggle with speaking up and to not feel heard in the workplace. Today, it's my wish that no-one ever feel the way I once did.
My message is one of successful change, contribution and diversity achieved through presentation skills, confidence and self-leadership.
As an award-winning speaker, a coach and an international singer I know it's 100% about my audience and I create an engaging experience that inspires massive change and includes actionable takeaways.
You can rest assured you're in safe hands; I've been performing on stages since 2001. My biggest crowd for singing is 5,000 and for speaking it's 1500. If you hire me to speak or to train, I can play it straight and cut out the jokes and music, or use my humorist and performance background to amp up the entertainment factor. It's up to you.
And if you're looking for a speaking coach for private sessions, then why not get in touch for a consultation? I recently worked with a health coach who'd never done any speaker training before. She managed to secure 19 strategy sessions and won 6 new clients and a string of overseas speaking engagements after just 5 private coaching sessions with me. Other recent clients include a university lecturer wanting to create more engaging lectures, and a student suffering from social anxiety who needed help with speaking up in small groups.
'Inspiring', 'Hilarious', 'Engaging', 'Talked Sense', 'Enthusiastic', 'Entertaining'
. . . just a few of the words used to describe Shola's presentations
Proud to have performed for:
Learn with Shola
Here's the preview for an online course for CareerCake TV on how to be a more engaging presenter.
Coming soon will be an online group coaching course for female coaches and entrepreneurs that want to use speaking to build their businesses. Interested? Enter your email address in the sign up box in the footer and we'll let you know as soon as the course is launched!
There'll be a module especially for those that are quiet, introverted or that experience some anxiety around public speaking. So, even if the idea of making presentations freaks you out a little bit, take the plunge, get involved and gain confidence.
Join my private Facebook community and get ready for the FREE 'How to be a D.I.V.A at Public Speaking' 5-day challenge, coming up soon.
INFOTAINMENT: Information plus entertainment
There are so many common threads between the worlds of business communication and music. An evocative title. A punchy opening. A memorable and repeatable message. Storytelling.
What lights me up as a speaker is sharing insights while inspiring my audiences to laugh and learn. I've performed on 4 continents,  recorded a couple of albums, studied stand-up comedy and I try to pack all that experience into making every keynote and workshop unforgettable. That sounds like a looong presentation but don't worry, I just give you the heavily edited highlights.
I make sure I deliver more than just entertaining fluff. Expect actionable lessons too.
All this from someone who once got in trouble at a corporate job for being too quiet and shy to speak up during meetings.
Expect to be empowered and uplifted with real-life stories interspersed with practical insights and applicable content. I get everyone engaged and involved so that transformation can begin during the speech. We're all in this together!