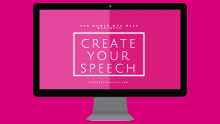 Write your next speech fast, and without the hassle. Get the FREE mini video series NOW.
Keynote Speaker, Humorist, Author and Singer
'To be yourself in a world that is constantly trying to make you something else is the greatest accomplishment.' Ralph Waldo Emerson
My message is one of successful change and contribution achieved through presentation skills, confidence and self-leadership.
Inspiring stories and interactive exercises encourage you to speak up NOW, whatever stage you're at, giving you the tools and insights to make it happen. The workplace needs innovators, bright ideas and change makers.
And what's it costing you to stifle who you are and hide your unique, glorious voice?
Plus, no-one should have to sit through a mind-numbingly boring presentation that makes your eyeballs glaze over. That's why my talks are laced with humour, warmth and life-changing stories.
As an award-winning speaker, a coach and an international singer I know it's 100% about my audience and I create an engaging experience that inspires massive change and includes actionable takeaways.
You can rest assured you're in safe hands; I've been performing on stages since 2001. My biggest crowd for singing is 5,000 and for speaking it's 1500. I can play it straight and cut out the jokes and music, or use my humorist and performance background to amp up the entertainment factor. It's up to you.
And if you'd like to become a better speaker, then why not get in touch for a consultation? I recently worked with a health coach who'd never done any speaker training before. She managed to secure 19 strategy sessions and won 6 new clients and a string of overseas speaking engagements after just 5 private coaching sessions with me.
Next public talk: Novotel Greenwich
March 31st 
morning
Would you like to brush up on your speaking skills? I'll be running a public speaking session during the morning as part of a 1-day training. We'll explore How to be a D.I.V.A. at Public Speaking and How to Think On Your Feet. Get in touch if you'd like to find out more.
Clients show some love: Ruth Kudzi, Success Coach
I went to Shola's Harpers Bazaar at Work event and it was one of the best of 2017 for me.
Shola is a talented speaker and delivers her content in an engaging way, the workshop was interactive and fun and the hour seemed to go by quickly. She shared different techniques with us that we could practice which meant we all left with new (or improved) skills.
I was so impressed by Shola that I have asked her to do some training for the women on my mastermind.
Learn with Shola
Here's the preview for an online course for CareerCake TV on how to be a more engaging presenter.
Check it out and you can purchase the course here.
Proud to have performed for:
INFOTAINMENT: Information plus entertainment
There are so many common threads between the worlds of business communication and music. An evocative title. A punchy opening. A memorable and repeatable message. Storytelling.
What lights me up as a speaker is sharing insights while inspiring my audiences to laugh and learn. I've performed on 4 continents,  recorded a couple of albums, studied stand-up comedy and I try to pack all that experience into making every keynote and workshop unforgettable. That sounds like a looong presentation but don't worry, I just give you the heavily edited highlights.
With a solid educational background (including an undergraduate degree from Cambridge University and being a qualified teacher with a Master's degree) I make sure I deliver more than just entertaining fluff. Expect actionable lessons too.
All this from someone who once got in trouble at a corporate job for being too quiet and shy to speak up during meetings.
Expect to be empowered and uplifted with real-life stories interspersed with practical insights and applicable content. I get everyone engaged and involved so that transformation can begin during the speech. We're all in this together!