Inspirational Keynote Speaker on:
* Communication skills for STEM and Technical staff
* Equipping your people to step up, speak up and lead
* Empathy in the workplace
"It was one of the most popular events we have run; the feedback we received was fantastic! Shola was energetic and connected with the audience very well. We will certainly invite her again."
Gokce Tuna, Imperial College Business School
The world of tech moves at lightning speed. As companies expand and innovate, staff who were hired for technical roles are increasingly being required to enhance their skill set and move into sales, management and leadership. The ability to work in teams, influence, persuade and communicate with clarity are essential if a company is to maintain its competitive advantage.
It's time to equip your technical staff with the superpower that will complement their expertise and increase their value…communication skills.
Global CIOs: 51% say communication skills are essential to leadership
HR management: 95% say they would promote the candidate with better communication skills over the one who is more experienced in the role
Stem professionals are move valuable when they combine their technical expertise with strong social skills (CSIRO)
"Shola was extremely professional, the feedback we received off the back of her talk was fantastic… the audience were inspired and constantly engaged throughout the session, making this a great way to open our event. I would highly recommend Shola for any organisation that is looking for an inspiring / motivational speaker on communication in the workplace."
Victoria Legg, Business Growth Manager, NatWest Bank
Shola Kaye's mission in life is to unlock the communication potential of technical and STEM people helping them rise to the top of their organisations
Shola Kaye MSc graduated from Cambridge in Natural Sciences and obtained her Masters in the USA before starting her career in IT and management consultancy. She then became an international performer and is now an in-demand keynote speaker. Her speaking and teaching has won awards and she's also author of two communication books.
Shola has spoken and performed on 4 continents for clients like Deloitte and Sony Pictures and regularly works with organisations seeking to empower STEM, professional services and technical staff to step up, speak up and move into leadership.
As well as speaking and running workshops for tech and STEM companies she also works regularly with women in industry organisations, in particular women in traditionally male areas such as shipping, law, engineering, pharmaceutical manufacturing and many others.
Shola is also an experienced MC, facilitator and conference chair.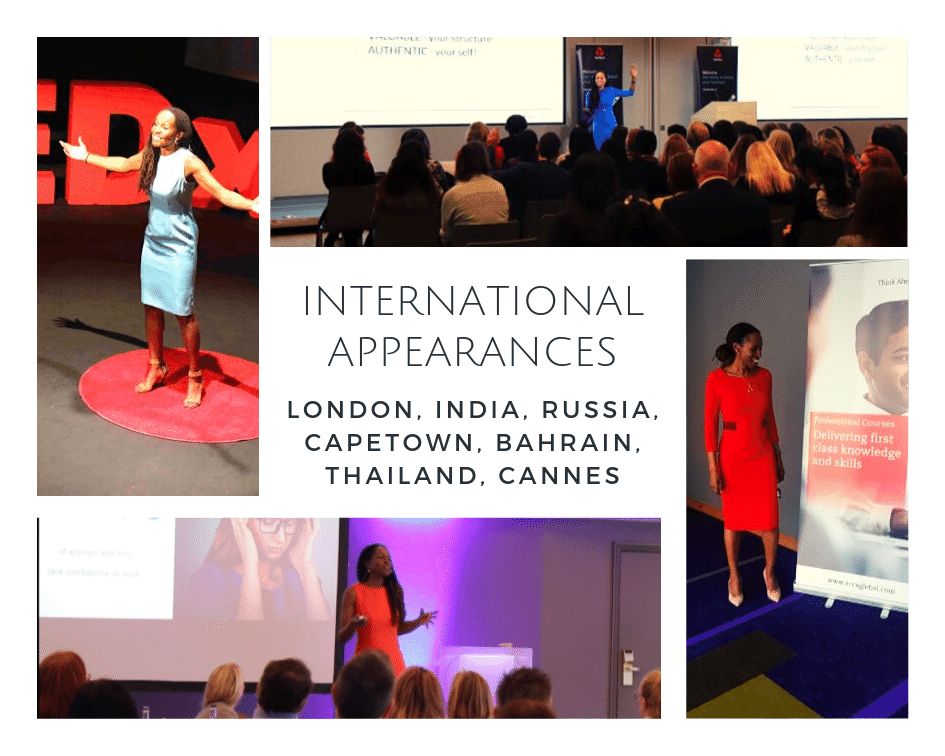 MOST POPULAR KEYNOTE
INFLUENTIAL: transforming technical know-how into leadership skills using the power of communication
Topic: Communication/leadership/personal impact
Perfect for: Corporate meetings, global conferences, associations
Whether you're a STEM professional, a lawyer or an accountant, these days technical know-how alone isn't enough to ensure continued career success. What got you here, will no longer get you there.
This is a high energy, interactive keynote. Participants walk away energised, educated and transformed, having used the skills there and then in the session.
In this rapidly changing world of constant innovation it's amazing what human beings have accomplished. And advanced technical skills have been key to making this happen. But technical people also need to share ideas, to persuade with confidence, and to encourage those around them to enter the brave new world. This talk equips audiences to lead and persuade through powerful communication. 
Key learnings include:
Become an effective communicator using speaking frameworks
Tell powerful stories quickly and effectively to connect and engage
Understand and use the principles of persuasion to influence colleagues and clients
Optional follow-up materials are available including worksheets and online training videos.
Shola has other keynotes and workshops available on communicating for inclusion and more.
STEP UP, SPEAK UP & INFLUENCE! Workshop – Half or full day
Best for: STEM professionals, technical and IT staff, technical sales teams, accountants, lawyers and those preparing to influence and persuade in leadership roles
Learning outcomes (client can select the most relevant outcomes from those below):
Understand that communication frameworks are the key to moving from technical to persuasive roles
Discover techniques for storytelling for interest, connection and engagement
Learn models for creating impactful written and spoken messages
Learn and apply the principles of persuasion
Get the best out of your team and clients by assessing and working with their personality type
Become a powerful and influential public speaker using the D.I.V.A. framework
Get the max out of your meetings using preparation and teamwork
Create an environment where everyone can flourish using the power of listening and the empathy N.E.T. framework
Shola has worked with brands around the world