Presentation skills & Confidence. Conference and corporate speaker. Women, STEM, Employee Resource Groups. Entrepreneurs.
Personal and professional development with an ENTERTAINING twist.
Watch the 3 minute speaker reel.
"Make the most of yourself….for that is all there is of you." ― Ralph Waldo Emerson.
Regardless of the topic,  I always invite my audiences to be inspired, to gain new insights and to interact. My heartfelt wish is for people to come away feeling empowered, transformed and ready for action!
It's about opening people's minds and hearts to the amazing possibility of . . . themselves, through encouragement, learning and humour.
Speeches and workshops are all about empowering audiences to speak up, enabling and inspiring them through the topics of presentation skills, entrepreneurship, self-leadership and confidence.
For your presentation I can play it straight or provide infotainment by giving a fun and informative performance.
And when you want to lift the energy of your conference or meeting with the power of inspirational speaking and singing, whether with a rousing opening keynote or an uplifting closing speech full of audience interaction, stories and entertainment, then look no further!
Need a workshop or masterclass for your corporate or STEM audience? I help your staff with communications, workplace empathy and more. Take a look at my page 'Soft Skills for STEM & Corporates'. Find out more here.
I've trained with Tony Robbins and Joanna Martin, have performed on 4 continents in front of many large audiences and written jingles for the likes of Oracle, as well as speaking on the TEDx stage. In addition to my performance and training background, I have a degree in Natural Sciences from Cambridge University and I'm often called upon to speak on communication skills and confidence to STEM-based groups.
Contact me to set up a call if you'd like to find out more about my talks or workshops, or click the 'Book Shola' button with some info about the date, time, location and audience size of your event, and we'll get back to you soon. I customise all my talks to suit the audience, getting to know your business or group before I prepare the speech.
Speaking Topics:
Topics can be delivered as a 25 minute to 1 hour speech/keynote, an interactive 2 hour talk or a half day to full day workshop.
SPEAK UP ON THE SPOT: practical suggestions to help you answer difficult questions and speak on your feet at work and beyond (interactive talk or workshop)
Excellent for corporates, conferences, associations and other groups wishing to bring out the best in their attendees and encourage confident communication. The talk uses material from Shola's upcoming book of the same title. Key learnings include:
use of on the spot speaking frameworks to speak powerfully and coherently
coverage of the various kinds of difficult questions and how to answer each one without appearing evasive or getting defensive
performance strategies to feel at ease during tense or high pressure moments
HOW TO BE A D.I.V.A. AT PUBLIC SPEAKING: powerful presentation techniques from the bestselling book (interactive talk or workshop)
Excellent for corporates, associations and women's groups. Uses the analogy of pop singers vs speakers and songs vs speeches to help inspire your audience to speak up and communicate with authenticity and power. Please note that this talk is suitable for all genders; D.I.V.A. is an acronym. Key messages include:
be a DYNAMIC speaker to engage your audience
be an INSPIRING speaker to connect with others using stories
deliver VALUE to build trust
be AUTHENTIC to foster inclusion and diversity, and to build courage and confidence
AIN'T NO MOUNTAIN HIGH ENOUGH: How to navigate the highs and lows of being an entrepreneur
This is an uplifting, motivational, humorous speech for business owners and entrepreneurs. Suitable for trade show events, conferences, women in business events, after dinner speech slots and more. Key messages include:
forget about being perfect – just get it done!
entrepreneurs embrace experiments – be ready for unexpected outcomes
don't do it alone – smooth out your business journey by building your very own A-Team
GET CLIENTS WITH SPEAKING: Learn the system that will have you speaking confidently, finding speaking opportunities and winning new clients (interactive talk or workshop)
Great for associations, entrepreneurs, coaches and wellness professionals. A practical and interactive talk for groups that need to empower their members to build business. Key topics include:
How to engage and transform your audience, even when you're not a confident speaker
What you need to prepare to maximise every speaking opportunity
The ingredients of a client-winning talk
Strategies for finding and acing your next speaking gig
I recently attended a half day presentation, How to be a D.I.V.A. at Public Speaking, that Shola Kaye gave. I particularly noticed that Shola encouraged people to use their own experience and citizenry which, in my case, helped me to identify and effectively use tools and skills that I already have. In the past I have attended "slick", "professional" and indeed very expensive presentations from so-called "experts" that fall far short of Shola's very high standards.
Judge Paul Sandford, Principal Director, Albert Square Mediation
Our organization was incredibly lucky to have Shola as a guest presenter at one of our membership development conferences.  Her session was engaging, dynamic, and above all, directly applicable to all attending the workshop.  Whether you routinely need to present in front of larger crowds, or are simply looking to command more attention and make a greater impact in smaller settings (even one-on-one), Shola's training is a must.  The session generated some of the most enthusiastic feedback of the entire conference!  Her advice is invaluable and truly can be applied in almost any setting.
Colleen Boyanovic, LEAD Chair – Junior League of London
INFOTAINMENT: Information plus entertainment
There are so many common threads between the worlds of business communication and music. An evocative title. A punchy opening. A memorable and repeatable message. Storytelling.
What lights me up as a speaker is sharing insights while inspiring my audiences to laugh and learn. I've performed on 4 continents,  recorded a couple of albums, studied stand-up comedy and I try to pack all that experience into making every keynote and workshop unforgettable. That sounds like a looong presentation but don't worry, I just give you the heavily edited highlights.
I make sure I deliver more than just entertaining fluff. Expect actionable lessons too.
All this from someone who once got in trouble at a corporate job for being too quiet and shy to speak up during meetings.
Expect to be empowered and uplifted with real-life stories interspersed with practical insights and applicable content. I get everyone engaged and involved so that transformation can begin during the speech. We're all in this together!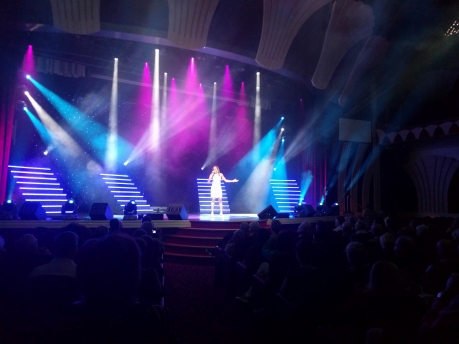 Companies I've performed for: