Are you a teacher looking for a way to motivate and inspire your students?
Would you like to help years 10, 11 and the VI form become excited about the future?
Do the pupils at your school need a little more careers advice?
Shola's talk for schools 'Three Ingredients – the recipe for finding a career you love' is fun, inspiring and down to earth. During her 45-minute to one hour talk designed for young people of both genders aged 13-18, she shares her childhood dream of becoming a singer and then discusses the outside influences and pressures that led her to abandon that dream in favour of studying The Sciences.
The core message of the speech encourages students to look within, get in touch with what truly motivates them and to use that as a beacon to guide them through the maze of exams, potential further study and ultimately, working life.
Shola's talk is tailored to suit each school she speaks at. Depending upon the needs and interests of the students, Shola emphasises different aspects of her story and career path. She can focus on creativity, productivity, academics, the weight of family expectation and more.
Shola can take the students on a tour through her university studies as an undergrad at Cambridge and a PhD student in the USA, followed by a variety of careers including research science, teaching, corporate business, life coaching and the entertainment industry, pointing out the pros and cons, and highlighting the ideal personality traits required for each one.
Or the focus can be on how to find the confidence to stand out from the crowd and pursue a career you love.
She shares key life-lessons and tips on how to find the right path and how to resist outside pressures in favour of making decisions that are true to the heart.
Shola was absolutely fantastic!

Her delivery was engaging, the speech was very relevant to our Seaford community with simple and sound advice spoken from the heart. Her stage presence was tremendous and came across sincere, confident with a gentle and engaging approach. The audience was a tough one to win over with over 1,200 in the crowd ranging from pupils of 7 to 18 years, parents, staff and governors who had already sat through a number of speeches and prize giving but all credit to Shola she did it beautifully. She is a real winner and we would recommend her to wholeheartedly.
Shola had an immediate connection with the students as she told her own story and how she identified three ingredients for success and happiness. Wowing them both with her feisty independence and her academic credentials, she gave them time to reflect on their own aspirations; and illustrated how it takes determination, patience and hard work to bring these into alignment with circumstance and innate ability. Shola skilfully won the students' trust and showed a clear understanding of the difficult choices they face.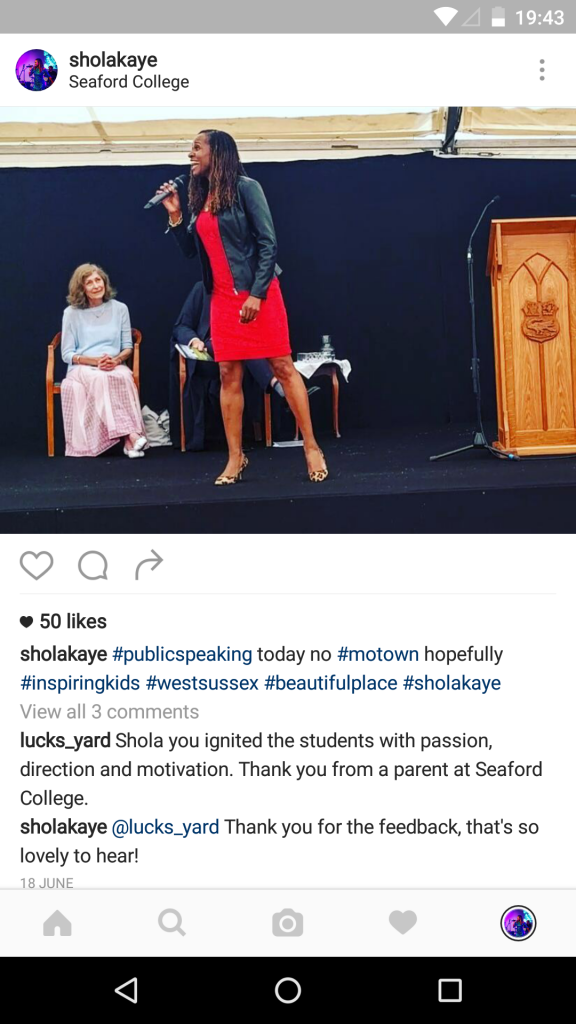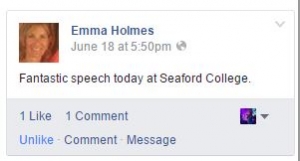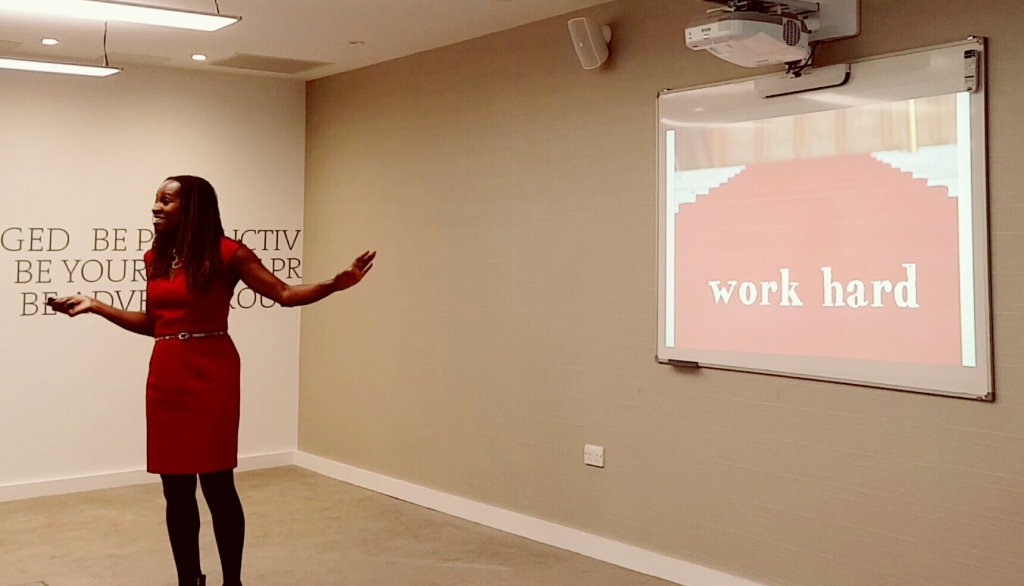 The talk is frank but also playful. The three lessons Shola shares are:
work hard
be yourself
follow your dreams
Students are encouraged to interact both with Shola and with each other, and to ask questions throughout the talk. A qualified teacher with a PGCE and years of teaching experience, Shola is well able to manage large groups of young people and keep them engaged.
Optionally, the talk can end with a song or an interactive vocal exercise to inspire the students, leaving them on a high note, facing the future with renewed enthusiasm.
Also available is Shola's PSHE workshop, V.O.I.C.E.S. It's a 90 min – 2 hour workshop that can stand alone or be delivered alongside the 'Three Ingredients' talk. Designed to help students orient themselves towards the future by assessing their core values, strengths, inspirations, aspirations, areas for change and support systems.
Shola delivered a really engaging and interactive talk that contained some key messages for students. Her life story enabled her to convey her message of following dreams and being individual with authenticity and honesty. The students were impressed by her range of experience but also clearly felt that her style allowed them to engage with her in a spontaneous manner. Her preparation and professionalism were excellent and she clearly had a good idea of what the students' backgrounds were, which helped her to engage with them in a meaningful way.
Loved your enthusiasm, energy and positivity. In a word you ARE JUST AMAZING. All the very best with your singing career!
I enjoyed everything, especially the singing and the quotes from your friends. I felt like I could really connect with what you were saying and it has made me a lot more optimistic 🙂
What I enjoyed about the session was how everything was in relation to each and every person in the audience. You were able to identify us individually and help us understand that anything is possible. Thank you 🙂
I have known Shola for five years and in the time I have worked with her, she has been nothing short of brilliant with the courses that she has run. Shola's biggest strength is as a communicator and manager of her classroom, partly through her charisma and force of personality. Clear, focused and direct, the thing I would note is that she is at ease when in front of a group. Shola is able to inspire, to guide, to educate and to motivate and I think she has the perfect blend of classical teaching methodology, with modern thinking. It goes without saying that this is vital when trying to get the best out of students; the skill of adapting the needs and requirements of each member of the group. She has long been an asset to the courses that we run and I would have no hesitation in recommending her to anyone.
You've helped me to think what I want to pursue in life as I've been quite unsure what career I want to do. Great speech!! Very enthusiastic.
You inspired me to continue to strive for my "secret dream" and gave me more confidence to carry on.
Keep your positive, down to earth style. You are very relatable and kind. Really enjoyed the idea of following your dream even though it may be tough. Very motivational!