Soft Skills for STEM and technical teams – keynotes, consulting & masterclasses
Bespoke workshops, seminars, talks and coaching for businesses on the following areas:
Public speaking
Communicating on camera – various levels
Communication frameworks
Think on your feet skills
Speaking up with confidence in meetings
Dealing with difficult conversations
Influence and persuasion techniques for personal impact
How to use metaphor, analogies and stories to explain complex information
How to create an environment where introverts can thrive
Workplace empathy
Select one topic or several for a high energy and engaging session.
Shola's Public speaking masterclass was fantastic! She made the course interactive and energetic! Her pace was really good and she explained tasks and strategies in very clear way. I would definitely recommend taking one of Shola's masterclasses and I will definitely be attending more in the future! –Talja Parkinson, Data Professional, Sky Telecoms
I hired Shola to train and consult with my team so they could become confident, content and powerful speakers as they go and meet our clients on a weekly basis and present to them. I've seen a tremendous difference within the team and they've also felt that they've benefited from Shola's coaching sessions and have become more confident as a result. – Saija Mahon, CEO Mahon Digital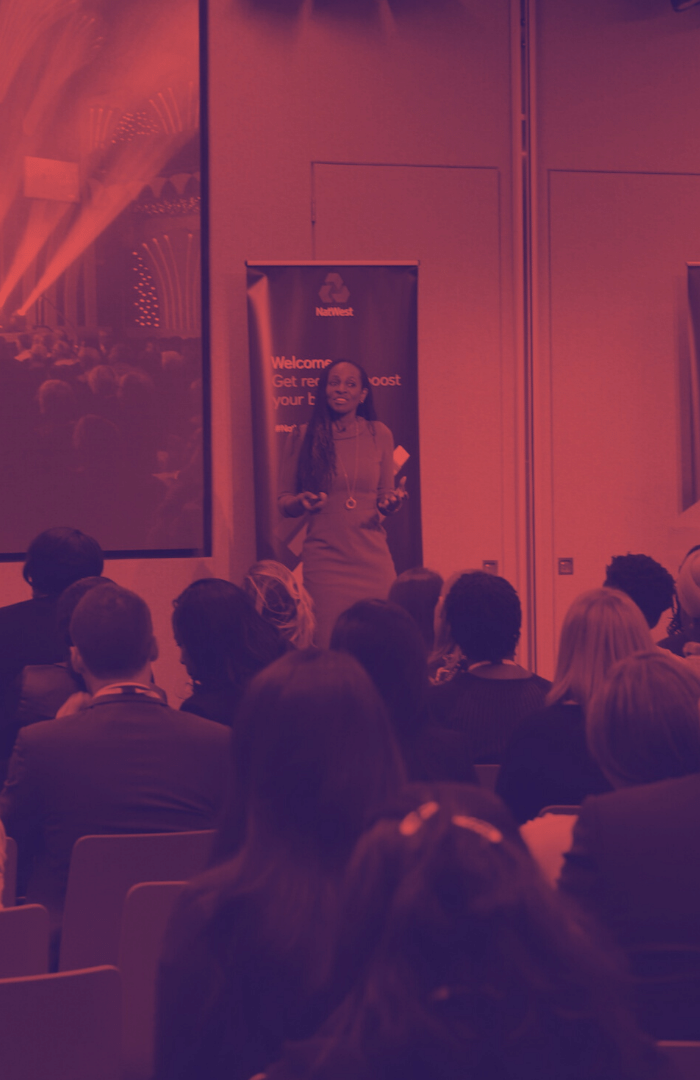 Interactive, framework-based, effective
DO YOUR TECHNICAL STAFF NEED HELP PREPARING FOR A BIG CONFERENCE OR HIGH STAKES MEETING?
DO YOU NEED TO EQUIP STAFF WITH THE SKILLS TO MOVE INTO MANAGEMENT OR SALES?
IS IT TIME TO BEEF UP THE SOFT SKILLS OF YOUR TEAM, LIKE PUBLIC SPEAKING, PERSUASION AND EMPATHY?
These days, technical mastery is not enough by itself. Soft skills are in high demand, even among the STEM workforce.
The ability of individuals to communicate effectively, to collaborate and to build working relationships is a must in the science and technology sectors.
Shola's unique approach is ideal for technical professionals who are short on time and love to learn via frameworks, formulas and systems.  Learn to use the power of stories, metaphor and analogies to make connections and share complex information.
Sessions are high-impact, practical and punchy.
Shola's guidance helped to transform my presentation into something that an audience would want to listen to. She also gave me some invaluable tips for body language and how to slow down racing speech, and work on that all important gravitas! These teachings now form the basis of all communication, whether presenting or not. – Rachel Cunningham, CP APMP
Watch this short video explaining how Shola works with STEM and technical groups
Shola's second book is full of tools and tips for engineers, coders, IT teams, technical experts and introverts to help them speak up confidently at conferences and in meetings (available soon)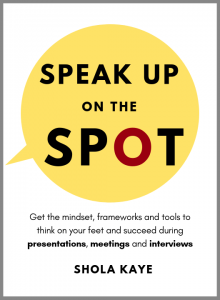 STEM professionals are more valuable when they combine their technical expertise with strong social skills. – CSIRO
BENEFITS OF THE CURRICULUM:
Retain employees – With a more communicative, empathetic and understanding workplace, staff loyalty and productivity are increased.
Promote from within and save thousands on recruitment fees – By equipping your team with the necessary people skills you can allow them to step into client-facing, management and sales roles with ease, saving yourself time and money hiring mid-management staff.
Get the best out of all your people – Many STEM professionals are introverts and may need a bit more support when it comes to stepping up and offering opinions during meetings and Q&A situations.
Reduce inter-departmental friction – Technical professionals and IT departments are sometimes called upon to deliver bad news such as missed deadlines or the inability to deliver desired software features and functionality. When speaking to stakeholders, diplomacy, tact and greater awareness are vital skills for harmonious relationships.
Prevent growing pains within your organisation – Tech SMEs can grow at a lightning pace. Get your culture sorted BEFORE you grow big. These masterclasses  tie in well with equipping staff with skills they can use when they become managers, staying and growing with the firm.
Increase your bottom line – Encourage the retention of diverse staff by creating a workplace of understanding and empathy. Studies have shown that diverse teams lead to increased profits.
Architecture & operations community lead: The Financial Conduct Authority – Tech
Founder and CCO: Intelligent Reach – Tech/Data
Head of HR: LOC Group – Engineering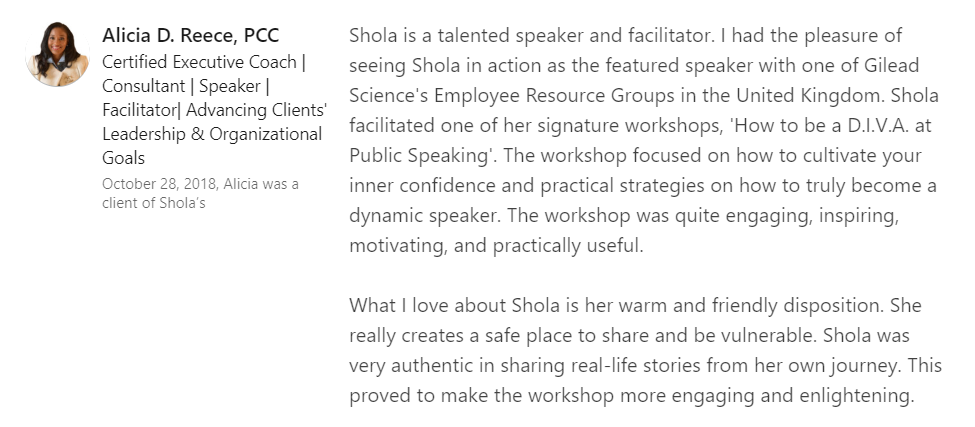 Choose from a variety of delivery methods
keynote speech
2-3 hour masterclass
1-2 day seminar
ongoing consultancy
video training modules
small group coaching
The best teams at Google exhibit a range of soft skills: equality, generosity, curiosity toward the ideas of your teammates, empathy, and emotional intelligence. And topping the list: emotional safety. – Project Aristotle/The Washington Post
Here's why Shola is the right choice for your STEM or technical team
Shola has a unique background as a former IT management consultant with a science background, who went on to become a professional performer and speaker.
She is the author of two communications books. Her second book, Speak Up on the Spot, is packed with frameworks and tips that are useful to STEM workers, professional services staff and those that need help speaking spontaneously, showing how to make the best of their superpowers in meetings and during presentations. She shares these insights during her talks and workshops.
Shola delivers from personal experience, rapidly creating a connection with her audience. During her talks and workshops she shares stories of how she initially struggled in the workplace.
Her public speaking blog is one of the top 10 most highly rated in the UK. She has successfully delivered seminars and keynotes for a range of clients including Deloitte, Lloyds Bank and The Financial Conduct Authority.
Shola is an award-winning teacher (Royal Society of Chemistry Scholarship), an award-winning speaker, and has degrees in Natural Sciences (Cambridge University) and Analytical Chemistry (Emory University, USA). She has spoken at the IET and Royal College of Engineering.