Soft Skills for STEM industries – keynotes, workshops & masterclasses
Interactive, framework-based, effective
These days, technical mastery is not enough by itself.
Soft skills are in high demand, even among the STEM workforce.
The ability of individuals to communicate effectively, to collaborate and to build working relationships is a must in the science and technology sectors.
Watch the 3 minute speaker reel.
STEM professionals are more valuable when they combine their technical expertise with strong social skills. -CSIRO
Shola provides workshops, seminars and talks for businesses on the following areas:
Public speaking

Communication frameworks

Workplace empathy

Unleashing the power of introverts
Select one topic or several for a high energy and engaging session.
Watch the 13 minute TEDx talk on Workplace Empathy
All training is interactive, impactful and transformative.
Shola uses a framework-based approach that STEM professionals find naturally easy to grasp and deploy. She provides situation-based systems that make it easy to select a suitable mode of communication for each setting.
We use experiential learning techniques so that each and every participant comes away with first hand experience of the tools and frameworks they've just been exposed to.
77% of workers said they would work longer hours in a more empathetic workplace. – Business solver
Is it time to increase your employee:
value

productivity

loyalty

satisfaction

and mobility throughout your company?
BENEFITS OF THE TRAINING:
Retain employees – With a more empathetic and understanding workplace, staff loyalty and productivity are increased.
Promote from within and save thousands on recruitment fees – By equipping your team with the necessary people skills you can allow them to step into client-facing, management and sales roles with ease, saving yourself time and money hiring mid-management staff.
Get the best out of all your people – Many STEM professionals are introverts and may need a bit more support when it comes to stepping up and offering opinions during meetings and Q&A situations.
Reduce inter-departmental friction – Technical professionals and IT departments are sometimes called upon to deliver bad news such as missed deadlines or the inability to deliver desired software features and functionality. When speaking to stakeholders, diplomacy, tact and greater awareness are vital skills for harmonious relationships.
Prevent growing pains within your organisation – Tech SMEs can grow at a lightning pace. Get your culture sorted BEFORE you grow big. These masterclasses  tie in well with equipping staff with skills they can use when they become managers, staying and growing with the firm.
Increase your bottom line – Encourage the retention of diverse staff by creating a workplace of understanding and empathy. Studies have shown that diverse teams lead to increased profits.
When bosses are empathetic and show they care about their employees, staff are more likely to share information, come up with new ideas and support their colleagues. – Gallup
Choose from a variety of delivery methods
keynote speech
2-3 hour masterclass
1-day seminar
Shola also has a variety of training videos you can license and use with your staff to ensure an ongoing learning experience.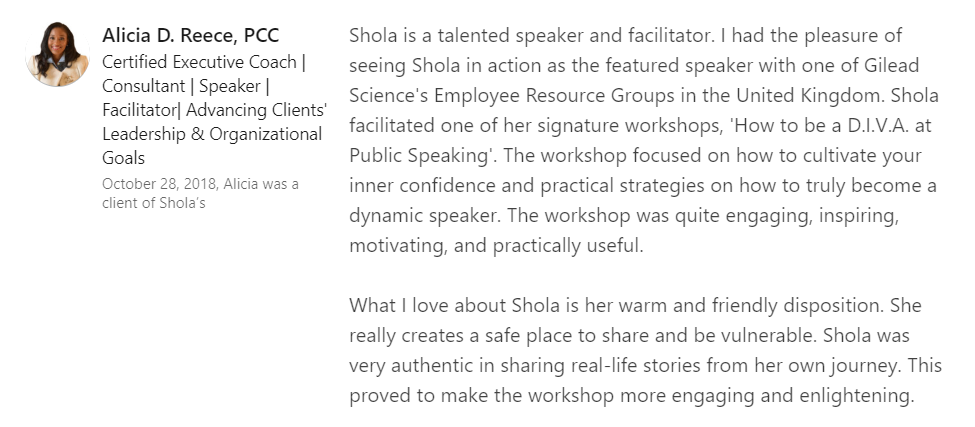 Why Shola?
Shola has a unique background as a former IT management consultant with a science background, who went on to become a professional performer and speaker.
She is the author of two communications books. Her second book, Speak Up on the Spot, is packed with frameworks and tips that are useful to tech professionals and introverts alike, showing how to make the best of their superpowers in meetings and during presentations. She shares these insights during her talks and workshops.
Shola delivers from personal experience, rapidly creating a connection with her audience. During her talks and workshops she shares stories of how she initially struggled in the workplace, being put on probation in one position and let go from a second, due to underdeveloped communication skills.
Her public speaking blog is one of the top 10 most highly rated in the UK. She has successfully delivered seminars and keynotes for a range of clients including Deloitte, Lloyds Bank and The Financial Conduct Authority.
Shola is an award-winning teacher (Royal Society of Chemistry Scholarship), an award-winning speaker, and has degrees in Natural Sciences (Cambridge University) and Analytical Chemistry (Emory University, USA).